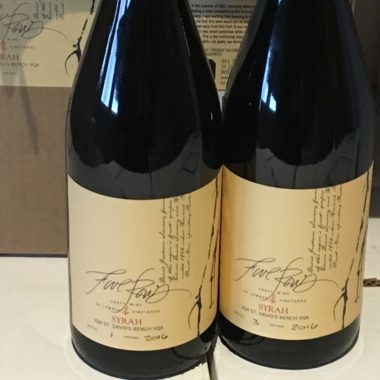 2016 Syrah
The surprise reaction to our 2015 Syrah (you had to be in the barn to catch the unmistakable "Syrah double-take") has many people curious about what is in store for 2016.  In fact, you can hear a thorough breakdown of our 2015 Syrah at the 33:20 mark on this episode of Two Guys Talking Wine – a fun podcast with André Proulx and Michael Pinkus.
Hand-harvesting for the 2016 Syrah took place on October 11th, with about 1000 kg sourced from each of our Clones (7 and 100).  The fermentations were conducted in open top bins and manually punched down three times daily.  They were allowed to initiate spontaneously after a four day cold soak, then inoculated with RX60 (Clone 100) and FX10 (Clone 7) on day 6.  Both bins were pressed after a total time of 14 days on the skins, then racked to barrel and inoculated with malolactic bacteria MBR31.  The wine was aged in French oak (20% new) for 24 months.
Early on, I worried the 2016 Syrah would come across so ripe that it would be considered more of a one-off vintage than a typical example of our cool-climate style.  But as the wine evolved in barrel, I became more excited about its prospects of becoming something unique, yet familiar at the same time.  This complex Syrah comes at you with aromas of dark fruit, sweet peppercorn, and floral notes.  It is both ripe and savoury on the palate, with surprisingly smooth tannins; should age well to 2024.
Production:  133 cases
Price:  $55
2016 Cabernet Sauvignon
Based on the sheer number of inquires we've fielded on it's release date, the 2016 Cabernet Sauvignon is one of the most anticipated red wines we've bottled in recent memory.
On November 9th, 2016, we hand-harvested 1500 kg of beautiful Cab from a combination of rows 8, 9, 10, 12 and 13 in our Clone 169 Block and rows 8 & 13 in our "Old Block" –  and in retrospect, I wish we had kept a few more rows for ourselves!
The fermentations were allowed to start spontaneously after a four day cold soak, then inoculated with FX10 (Clone 169) and F15 (Old Block) on day 6.  Peak fermentation temperature reached 30 C, and the bins were pressed after 15 total days on the skins.  Aging was carried out in French oak (25% new) for 24 months.
I'm of two minds on the 2016 Cab Sauv, in that it is showing very well right now – much smoother than similar versions at release (2007, 2010, 2012) – but I do feel this wine will only improve and blossom with age.  I can say this with much more confidence than I used to, based on the feedback we've received from the many people aging our Cab's going back to 2004.
Showcasing an abundance of the classic cherry and cassis notes associated with our terroir, this wine smells as intense as it tastes.  There is a richness to the palate, with good balancing acidity and evolved tannic structure.  It should age well to 2025 and, perhaps, beyond!
Production:  108 cases
Price:  $55
2016 Pinot Noir
It stands to reason that the most difficult years to craft good Pinot Noir are usually the best years for later varieties like Syrah and Cabernet Sauvignon.  Namely, it's easy to overdo your Pinot when they are rapidly ripening in the hottest part of the summer (think 2007 vintage versus 2009).  Leaning on past experience, I took steps to delay the maturation process in 2016 – with a later thinning of green clusters (post-veraison) and less intense leaf removal.
All of these efforts did not go unnoticed, as in my harvest notes I have scribbled:  "By far the cleanest we've ever picked"  – Wilma
The advantage of older vines vs. younger vines was also apparent in 2016, as we saw the fruit in our younger block (Clone 777) ripen quicker and lose acidity much faster than our older block (Clone 115).  We chose to hand-harvest 2500 kg from rows 2, 3, 4, 8, 9 and 14 of our Old Block on September 13th, 2016.  The clusters were sorted three times on the way to three separate one-tonne bins, and fermentations were allowed to start spontaneously after a four day cold soak at 15 C.  Each bin was then inoculated with cultured yeast at 1/3 sugar depletion to aid in finishing fermentation (65% RC212, 35% W15).  All bins were pressed after a total time of 15 days on the skins, then racked to barrel and inoculated with malolactic strain MBR31.  The wine was housed in French oak (30% new) for 24 months.
The end result is an elegant Pinot from a hot vintage, with ample acidity and tannins that should help it develop in bottle.  Ripe with familiar, terroir-driven notes of wild strawberry, cranberry, cherry, truffle and spices, it should age well to 2024.
Production:  161 cases
Price:  $55
2018 Sauvignon Blanc
I embrace the opportunity to work with Sauvignon Blanc as a varietal, but over the years it has proven to be a wine of unforeseen challenges and pressure.
First there are the viticultural challenges.  Canopy management and vine balance proved to be those hurdles in 2018 –   creating adequate fruit exposure to combat the higher disease pressure, but not so much to bake the berries in the scorching heat.  Thankfully, no irrigation was needed in these deep-rooted old vines, which was advantageous in weathering the dry conditions we faced in May, June and July.
Each year the harvest timing decision in our Sauv Blanc is ultimately made on flavour development in the berries, which – like acidity levels – can vanish overnight if you are not careful.  Our rows were harvested on September 4th, with ideal parameters for crafting aromatic and lively Sauv Blanc (20.4 degrees Brix, 8.0 g/L TA).
Then there are the stylistic challenges (i.e. the pressure to get it right!).  Based on what has worked in previous ripe vintages, I chose to ferment 75% of the juice in neutral French oak and the remaining 25% in stainless steel.  Everything was inoculated with X5 yeast, and went through partial spontaneous malolactic fermentation.  All vessels were fermented cool (9 C) for 25 days and stopped at a specific gravity of 0.998.
Finally there are the logistical challenges.  We produced 220 cases of 2018 Sauv Blanc, by far our largest bottling, but I anticipate that will not be quite enough to meet the demand.  So why not just make more?  For starters, it is difficult to source clean, previously used white wine barrels.  The seven older barrels I currently use average ten years of age, and will need to be gradually replaced in the near future.  Incorporating a brand new barrel into the fray might be necessary, but at what cost to my preferred style?  I'm hoping the answer lies in a new barrel I've sourced ("Piano" – by Tonnellerie Rousseau) that comes highly recommended for it's gentle treatment of aromatic whites.
These are the things I wrestle with up until I sample the recently bottled 2018 Sauv Blanc and realize that a wine of challenges and pressure has somehow become a wine of relief.
Production:  220 cases
Price:  $35
2018 Pinot Gris
Our Pinot Gris block is currently the smallest of our plantings.  Just an acre or so of vines, struggling away in the heaviest clay on our farm.  Although generally beneficial for wine quality, the clay soil has led to inconsistent vine vigour issues over the years.
I've never minded the small size of the block, as Pinot Gris is my nemesis when it comes to disease pressure, vine upkeep and training…so, of course, we've decided to plant more in 2019!  I will no doubt regret this decision on many occasions in the future, but for now I will bask in the joy of young vines and untapped potential.  Expect to taste this fruit sometime after 2021.
The warm, dry summer of 2018 helped produce some very ripe, thick-skinned Pinot Gris by early September. About 2000 kg were harvested on September 4th, after three days of painstaking Botrytis removal (not an easy task in PG!).  We chose to pick at an optimal TA level (7.7 g/L) to avoid having to supplement with tartaric acid.  60% of the juice was fermented in neutral French oak barrels and 40% in stainless steel.  The yeasts we chose to use were: R2 (for texture and flavour) and X5 (aromatic development).  It was fermented cool (9 C) for 21 days, and stopped at a specific gravity of 0.998.  Partial spontaneous malolactic fermentation took place in the barrel-fermented portion of wine.
The thicker skins are evident in the pinkish-gold colour and unmistakable texture of this wine, which also features aromas of apricot, baked peach, honey and vanilla.
Production:  135 cases
Price:  $35
2018 "Jean's Block" Riesling
I was caught a little off guard by how fast the Riesling ripened in 2018.  I usually count on a few weeks between the end of the early whites and onset of Riesling, but the steadily rising sugar content, crashing acidity and mounting botrytis threat led to an abnormally early harvest date of September 17.
If you were ever going to craft a Riesling with a slight botrytis-affected component, this was the year.  Ask anyone in the industry just how quickly and intensely their Riesling and other mid-season whites were sucked into a black hole of rot, and they will shudder at the thought.  Our vineyards were stagnant with humid air for the whole second half of September.
This called for many pre-harvest days spent dropping affected clusters and berries before being comfortable with fruit condition.  The general rule of thumb is that 5% is an acceptable level of botrytized berries, but even 1% makes me nervous – mainly for filtration purposes.  Having said all of that, there can be good things about having a tiny bit of botrytis in your white wine, such as increased aromatic complexity, that might be apparent to some in the 2018 Riesling.
Pressed juice was 100% fermented in stainless steel with two separate yeast strains: W15 (55%) and X5 (45%).  Tanks were fermented cool (9 C) for 28 days and stopped slightly off-dry, at a specific gravity of 1.005, to balance the ample natural acidity.
The 2018 "Jean's Block" Riesling exhibits a showy nose of floral, fruity and mineral elements; with hints of orange blossom, fuzzy peach candy and green apple.
Production:  135 cases
Price:  $35
The Five Rows Barn is set to re-open on weekends starting June 1st, 2019.  See you soon!