When you get to a point where the line between work and life is so blurry that the majority of your day seems like filler between fixes of caffeine, and what little sleep you do get is haunted by images of Multi-coloured Asian Lady Beetles and under-ripe Cabernet Franc…it's best to step back, focus, and re-consider exactly why you do what you do.
Thankfully, success breeds perseverance.  The following are two reasons why I still choose life as a winemaker: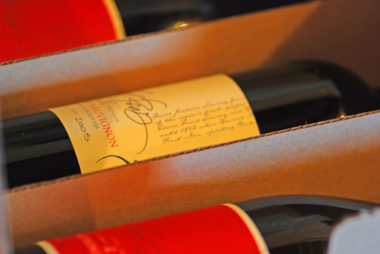 2005 Cabernet Sauvignon
A severe winter led to an average of 50% bud damage in the Lowrey Vineyard.  This Cabernet Sauvignon was sourced from vines that were shouldering a much lighter load than they were used to, hence a greater opportunity for ripening was in the cards.  Thankfully, the growing season weather co-operated and the resultant fruit was as good as has ever been produced on our farm.  The St. David's Bench microclimate really strutted its stuff, with even the later-ripening Cabernet Sauvignon reaching optimal sugar and TA levels.  Like our first "Five Rows" vintage in 2004, we took equal portions of Young and Old Cab Blocks to maximize clonal complexity.  Following traditional small batch punch downs, the wine was aged in a 50-50 blend of American and French Oak with an average age of 1.7 years per barrel.  A comparative barrel tasting took place on July 5, 2007 and as with previous years, the highest rated wines were housed in two-year old wood (a 2003 Barrel Associates & 2003 Berthomieu).  These two superior bottles were bottled on July 18, 2008.  This wine showcases the potential of minimally-cropped Cabernet Sauvignon from warm vintages in the Lowrey Vineyard.  Aromatic highlights include wild blueberry, ripe cherry and vanilla.  Very ripe and jammy on the palate with soft, mature tannins and excellent length.  Although hard to resist its youthful charm, this Cab is only entering its prime.
Barrels: 2       Cases: 45        Alcohol: 13.4%         Price: $50/Bottle
2008 Pinot Gris
In an effort to instill confidence, I tell my wines that it is never fair to compare themselves to their predecessors.   For that reason we won't speak further of the effusive praise garnered by the 2007 Five Rows Pinot Gris.  Some shoes are just too big to fill.
Harvested on September 19, 2008, this Pinot Gris began its life fermenting slowly in stainless steel and older French Oak.  The oak component was added in an effort to further enhance mouthfeel and increase aromatic complexity.  A nice cool ferment, dotted with periodic lees stirring, was complete by mid-October.  The finished wine was blended, then fined with bentonite for protein stability.
Early tasting sessions showed strong notes of McIntosh apple and anise, while one panelist was sure he could smell "catbox" (depending, of course, on the type of litter you prefer).  The French Oak and lees stirring helped create rounder texture and seemed to lend tropical nuances such as star fruit.  The wine was left with just enough residual sugar to balance the acidity.  Lemon-lime citrus flavours are predominant.  Bottled September 14th, 2009.
Cases: 57             Alcohol: 13.3%       Price: $25/Bottle
Both wines are now available for purchase!