Starting Saturday May 1st, the barn doors will be open once again.  I encourage all friends of Five Rows to stop in for a quick sip and chat.  We'd love to hear how your winter was and give you a sneak peek at our upcoming release schedule.  All the wines are drinking well right now and, consequently, their numbers are dwindling rapidly.
Make sure to bring your boots and take a leisurely stroll through the vineyard. It's a great time of year to witness new buds popping right before your eyes.  I'd be happy to lead a tour for anyone interested.  Thanks to the wonderful spring weather that's graced Niagara, we are a good 10-14 days ahead of a normal year.  As I envision what the 2010 vintage could potentially become, I hear the voice of my wise and battle-tested father reminding me not to count my chickens just yet.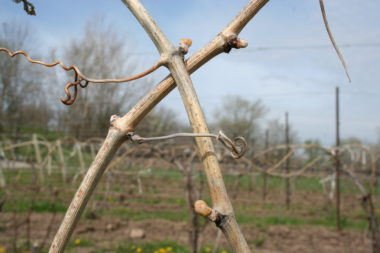 Since deciding to start a winery, the question I get asked most is, "so when is the Pinot going to be ready?".  I've stalled and tap-danced around the answer for about a year now, but not any longer.
Twenty-three years ago, five unassuming rows of Burgundian Clone 115 Pinot Noir were planted by a skeptical crew of individuals amid concerns about the future of a seemingly faltering grape and wine industry.  Would these vines even live to produce a crop?  Only time would tell.
No doubt my eagle-eye grandfather drove the tractor that fateful day, as this most important job meant the difference between straight and crooked rows.  To this day I'm amazed at his accuracy each time I gaze down a row in that vineyard.  The unsung heroes of the operation were the two women perched precipitously upon the planter as it was tugged violently behind the tractor.  My Mother and Aunt Pat were responsible for placing the young vines into the freshly harrowed trench at consistent intervals, all the while being tossed about on their cast iron seats.  Timing is everything, as vines planted too close together or too far apart can create a trellising nightmare (by the way, this is all done with laser and GPS nowadays).  I'm sure they were made well aware if any of the vines looked a little out of place!  Trudging along solemnly behind the operation was my Father, personally tamping and straightening each vine.  Did he have an inkling that one day I'd be writing about this?  Probably not.  At the time he didn't know a Pinot from his elbow, so most likely he would have laughed at the thought of his young son as a blog-writing winemaker.  His deep connection to these original vines was evident in recent years when I saw him conspicuously wipe away few tears as we uprooted out some old, grisled vines that didn't make it through winter.  Maybe it was just something in his eye.
Ironically, the rough clay-loam and limestone soil being cursed by the planters that day ultimately proved to be a key factor in the future success of these vines.  From the first wines made out of this fruit, it was apparent that the enigmatic effects of Terroir could be applied to this small patch of land in St. Davids.  The Reserve Pinot Noir produced by Inniskillin in the early 90s was much sought after and helped to elevate the image of Niagara wines as a whole.  The success of this Pinot spawned a collaboration project between Inniskillin and a counterpart in Burgundy.  Their goal was to produce a Niagara Pinot Noir that could stack up with the finest Grand Cru.  French Negotiant Bernard Repolt of Jaffelin was commissioned to select barrels from the Inniskillin portfolio that best represented the beloved wines of his homeland.  After an exhaustive search that involved physically tasting soil ("mmm….loamy") from the vineyard origin of each barrel, he and Inniskillin winemaker Karl Kaiser worked in tandem to come up with a final blend.   These critically acclaimed "Alliance" wines sold out lightning fast and really helped put Inniskillin on the map.  The fact they ended up choosing Lowrey barrels for the project dramatically changed the focus of our farm and probably had a lot to do with my future choice to become a winemaker.  From that point on we weren't growing grapes, we were growing wines.
Crafting my 2007 Pinot Noir from these same five rows was an exciting process that really brought things full circle.  There were plenty of anxious moments, but earlier this year as the wine went into bottle I felt a certain catharsis, knowing there was nothing more for me to do.  I have 99 cases of this wine and plan to release it early this summer.  If you are interested in reserving a six-bottle case ($300) please let me know soon (wes@fiverows.com).  In an effort to maximize distribution I must limit orders to 2 cases.
I'll follow up with tasting notes and cellar details of this wine closer to the release date.