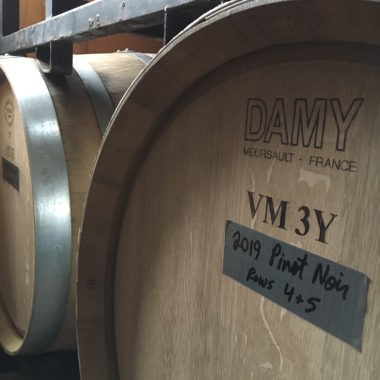 The 2019 Five Rows Pinot Noir is still in its infancy, but it has the potential to become one of the most exciting expressions of our terroir that we've released to date.  The journey to attaining this precocious potential was harrowing at times, but ultimately very rewarding.
Every year, there comes a time when I am at my wits' end with Pinot Noir.  To those around me it's a predictable and annoying phase that I'm convinced they refer to as "his rotten Pinot days", behind my back.
It usually falls somewhere near the end of veraison, at the first sign of a rotting cluster.  Inevitably, I manage to convince myself that all the work leading up to that exact moment had been in vain, and continuing the efforts would surely be a waste of time.  The daunting nature of the situation lies in the amount of time still required to properly ripen the fruit before harvest.  Successfully navigating those remaining weeks is always challenging – even in the years when the weather does co-operate!
The reliable voice of reason is always my father.  His steadying emotional keel is usually enough to steer me back to the grind of thinning out undesirable clusters from the vineyard.  This time, however, when he innocently reminds me not to worry, that this happens every year – he is met with a snappy retort of, "exactly why, then, do we still do this?"
In 2019, I had reached that boiling point during the second week of September after four straight days of rain.  The Pinot were starting to go downhill, but not quite ripe enough to consider harvesting.  Little did I know that my rejuvenation would come in the form of a tall Pinot soothsayer who had stopped by for our annual tasting walk through the Old Block.
My relationship with Thomas Bachelder goes back to when he was starting out with Le Clos Jordanne and I was finishing my Master's Degree in Viticulture at Brock University.  From the first time we met, I was struck by his knowledge of all things Pinot and how much he already knew about my family vineyard.  Our shared passion for Pinot has been a connection ever since, eventually leading to Thomas making his own wine from our vineyard starting in 2011.
There are many benefits to having Thomas make wine from your grapes, but I treasure our pre-harvest walk and chats the most.  In September of 2019, it may have indeed saved the vintage – or at least restored my sanity.  He arrives in a whirlwind of phone calls and consulting-related tasks (he somehow navigates vintages in multiple countries at once) and is usually out of the car and tasting berries before I am able to catch up with him.
I eventually get swept into his gravitational pull and he manages to reinvigorate, educate and praise me all in one tasting swoop of a few rows.  We compare notes on the current growing season, previous vintages, Pinot Noir clones, Karl Kaiser, harvest logistics, the effect of rain on Pinot, expressing terroir vs chasing overripe characters, the potential evils of chaptalization, berry skin thickness and, finally, how I should stop referring to our 2007 planting as the "Young Block".  This all takes place in about 15 minutes – the full Thomas experience.
Ultimately, it reminds me not to look at things under a pessimistic microscope, but rather to embrace the macro, bigger picture.  He looks at the entire block in relation to its terroir expression, while I tend to focus on the effect of a few teetering, less than perfect clusters that will probably get sorted out anyways.
I'm not sure that Thomas has any "rotten Pinot days", but he certainly helped me escape mine on that September day in 2019.
The fruit for this wine was harvested on October 1st, and sourced predominantly (90%) from our original five rows.  It was a pleasure to watch this wine evolve over its long 24 months in barrel;  from its fruity and tight origins through opening up to become an intriguing combination of red fruit (cherry, cranberry), floral nuances and noticeable, terroir-driven minerality.
In its current state, this Pinot starts smooth on the palate with late grip and a lingering finish.  Flavours include strawberry, raspberry, mocha and vanilla.  It is always difficult for me to advise not drinking a wine now, but I feel this one could be particularly ageworthy – perhaps to 2030 and beyond.
$60/bottle