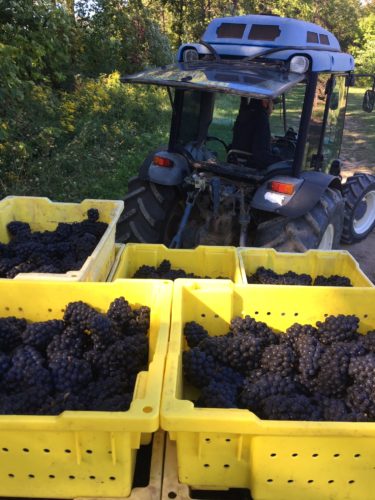 Well, that was special.  It was almost like mother nature knew she owed us one.
I'll preface by saying that all vintages are difficult undertakings that require a tremendous amount of patience and co-operation from all ends of the industry.  Some are beasts that we never wish to encounter again, while others are a little more forgiving and borderline enjoyable – but no vintage that I've ever experienced has gone as smoothly as 2020.
For months I've been afraid to verbalize my thoughts on our good fortunes, in fear that it would cause some catastrophic shift in the weather.  There were moments (hurricane tracking, sporadic hail) when it appeared that our luck may have run out, but somehow, each time the threat magically diminished.
In my experience, it is rare that a good stretch of summer weather for ripening grapes (warm, sunny, relatively dry, but not too dry!)  transitions smoothly and holds for an entire fall harvest.  In 2020, the smaller berry sizes and lower crop levels we saw were primarily the product of below average precipitation.  Unlike other dry years, however, we didn't experience much in the way of drought stress or sustained stretches of mildew-inducing humidity.  All of these factors combined to give us some of the cleanest fruit we've ever harvested – across the board.
It was a year where everything seemed to ripen at once – making it much easier to line up our varietals for processing, given the seemingly endless days of perfect picking weather.  Admittedly, I come at things from a very small production winery perspective, so I'm sure there were logistical issues associated with having all varietals concurrently ripe that became difficult for larger wineries and growers.  Fortunately, few will ever complain about having to wait a bit longer to harvest their ripe, clean fruit – certainly not the birds!
At Five Rows, our vintage usually gets off to a fast start, with three early varietals that represent some of the first fruit harvested in the region: Pinot Gris, Sauvignon Blanc and Pinot Noir.  We then bide our time until the Riesling and Syrah are ready, while the Cabernet Sauvignon is hung until the very end of the season for maximum ripeness.  In 2020, the latter three varietals were all picked on dates much earlier than average – and all showed ripeness levels that we've rarely achieved.  I had to look twice at the refractometer when my first Syrah sample read 26 degrees Brix – was this St. David's or the Barossa Valley!?
One would think that the ripest grapes always translate to the best wines, but personal experience tells me there is more to it than that.  Working with abnormally ripe fruit actually presents some new challenges when it comes to fermentation dynamics.  In a "cooler" climate like Niagara, we are used to harvesting grapes with ample acidity and relatively low pH, making it less favourable for undesirable microbes to flourish in the primary fermentation.  When the opposite proved true in 2020 (lower TA, higher pH), fruit cleanliness became the key to trusting our normal protocol of a spontaneous ("wild") start to fermentation.  The higher initial sugar content in the grapes also leads to an increase in potential alcohol and longer fermentations, meaning particular attention had to be paid to yeast and malolactic bacteria viability.  There were a few stragglers, but eventually all of my fermentations arrived at a nice, dry endpoint.
It's early days yet, but the 2020 reds seem like they could have a bright future ahead.  Their obvious ripeness is sure to be the initial attention grabber, but their overall balance and familiar Lowrey Vineyard aromatics will tell the story of a special vintage form a unique place.  A place where we can ripen a wide range of varietals and still make elegant, terroir-expressing wines.
I am far too grizzled a grape grower to think that the stretch of conditions we experienced in 2020 could happen again in my lifetime, but I do feel it bodes well for future vintages.  There will always be an underlying fear of extreme weather events, but to know that all six of our varietals hit peak ripeness levels in one singular vintage is a very exciting prospect.
Thankfully, not all things arriving in 2020 turned out so bad after all (just the vast majority).