As winter draws near, it's fitting that our 2009 Cabernet Sauvignon Icewine is finally ready for release.  The bottles are signed, the labels have been folded and the wine is drinking beautifully!
Excitingly, we were just informed that this wine has received a silver medal in the Icewine category at the 2011 Canadian Wine Awards.  Full results will be made public in the December issue of Wine Access.  I must admit that this was not an easy wine to make (it drew my ire on many occasions) and to be recognized in this manner is especially gratifying.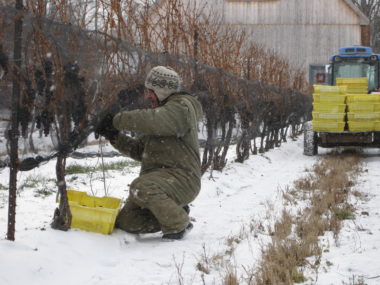 I remember the day we harvested this fruit very fondly.  After an evening of perfect freezing conditions (-12 degrees Celsius) it was decided that we would hand pick five rows of specially selected Clone 169 Cabernet Sauvignon.  A beautiful day unfolded before us, with a light snow gently filtering the weak rays of winter sun.  Having spent the last three months fending off voracious flocks of starlings, the relief of harvesting was palpable that morning, and probably helped us brave the cold.
I quickly learned that everything involved in Icewine production is slow and difficult.  Pressing was a very long and drawn out process, but we were thankful for each singular drop of juice that slowly dangled and fell from the press spout.  The fermentation was also a marathon, as yeast don't normally take kindly to such extreme conditions.  Proper nutrition and attention to fermentation dynamics were of the utmost importance.  Slowly but surely the sugar became alcohol and the amazing Icewine flavours began to reveal themselves.  The goal was to produce an Icewine that would not be perceived as being "too sweet" and I think we achieved that.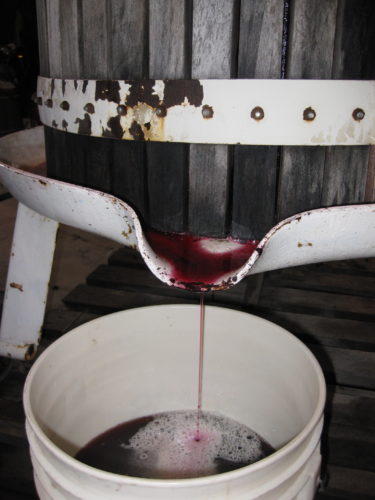 The challenge continued when it came to filtering and bottling this lucious, thick liquid.  In fact, it required as many pads to filter this measly 270L as I used for the rest of my entire 2009 vintage!  Bottling into narrow 200ml glass was a treat as well.  First the corks wouldn't fit properly, then the bottles started tipping over on the filling line.  Keep in mind that any spillage of icewine is magnified many times simply due to it's scarce supply.
Perhaps the easiest and most enjoyable part of this wine was the label design.  It's a fun process and I'm always impressed with the original concepts that are born on the magic blackboard at Insite Design.  They always seem to come up with ways to make my wines feel special.  For a sneak peek at the package concept of this wine click here.
Many times over the course of this Icewine experiment I promised myself that under no circumstances would I ever do this again.  Based on the tremendous response to this wine, however,  I may now have to eat crow and reconsider.
Sometimes crow tastes good.