I'm generally not an emotional guy.  Why then, am I having such a difficult time parting ways with the first two barrels that ever held my wine?
The time has come to cruelly determine which of our used oak barrels must be sent out to pasture, literally.  I've been through wars with these veteran barriques.  They've seen good wine, bad wine and everything in between.  Some have been a working fixture in our barn for eight years.  Now you must decide which old soldiers can no longer carry out their job, good luck with that!  This unceremonious send-off just doesn't seem to befit such a valuable part of our winery.
Good oak is the winemaker's not-so-secret weapon.  Sure they are expensive (our largest capital expense from year to year) but they are essential.  I've come to learn that new oak should never be taken for granted and never be used in overabundance.  Too much new oak can mask and possibly ruin the fine subtleties of an aging wine.  Restraint should always be exercised.
My attachment to each individual barrel is surely due to the small size of our operation.  Over time I become acutely aware of their "personalities" through weekly tasting and topping regimens.  Some are big softies, while others are boldly complex.  Some barrels make the retirement decision easy for me.  No amount of sterilization can rid them of the contaminants they've accumulated over the years, so out the door they go.  But what about the barrel who's only knock is it's old age and bland neutrality?  That is the dilemma staring me in the face right now.
Back in 2004, under the guidance of Creekside Estate Winery winemakers Rob and Craig, I assembled a two barrel blend of Cabernet Sauvignon sourced from our vineyard.  With a pool of twelve barrels to choose from, we experimented with 50L from here and 25L from there until we all agreed upon a blend that I could confidently open a winery with.  It was decided that the wine should be housed in a couple of beautiful, two year old French oak barrels made by Burgundian cooper Claude Gillet.  The wine would stay cloaked in these barrels until 2006, when we bottled our first Five Rows release – the 2004 Cabernet Sauvignon.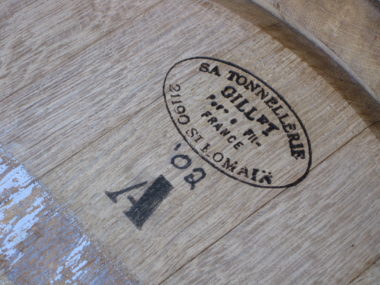 Those same two Gillet barrels proved tremendously versatile with each successive vintage of Five Rows Cab Sauv.  What they lost in intensity each season, they gained in character and elegance.  This past week I racked some 2009 Cab Sauv from the Gillet twins and was pleasantly surprised at the finished product.  I didn't hold out much hope for the 2009 Cab at this time last year, but an additional 12 months spent soothing in neutral oak really did the trick.  We'll bottle the 2009 Cab Sauv this spring.
So there they sit after ten long years of service, empty and willing…but sadly there is no wine to fill them.  Now the decision is upon me.  No more stalling filibusters, it's time to take these two out behind the barn and "pop the bung" for good.  I swear I'd have an easier time putting down Old Yeller.  At least he had rabies.
One day soon I'll crack a bottle of 2004 Cab Sauv in their honour.  Few times will I enjoy a bottle more.