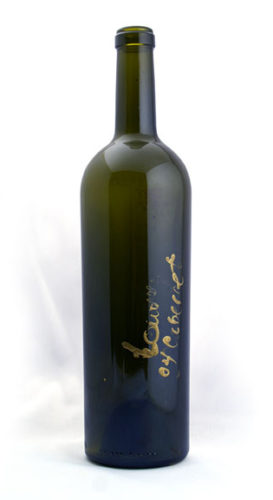 The bottle you see above is one of a lot of two barrels of 2004 Cabernet Sauvignon, 100% sourced from Lowrey Vineyards.  It was bottled last summer following two anxious years of aging in older French oak barrels.  That lot is very special to us because it represents the first wine we will release under our yet-to-be-named winery label.
A couple of weeks ago, we bottled our 2005 Cabernet Sauvignon after a similar aging period in a somewhat different barrel regimen.  The two barrels of '05s were initially aged in older Frenchies like the '04s.  After an initial tasting of the '05s, I surmised that adding an American oak barrel to the mix after the second racking (12 months in) would help frame the slightly bigger tannins and bolder overall mouthfeel.
It was one recent evening on our annual trip to Bobcaygeon that I decided to recruit some unbiased family palates to conduct our first ever cross-vintage wine tasting.  Exciting stuff!  After nervously setting up the blind tasting, I was intrigued to watch my father skip the aromatic profile altogether, swig back the wine and conclude that "It tastes good."  The more sophisticated family members assured me that both wines showed well and I was impressed that some were even able to recognize the subtle differences between vintages.  Thanks guys!
Look for the '04s sometime soon and the '05s early next year after some quality time in bottle.