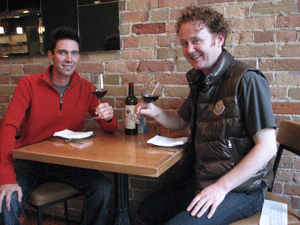 A couple of weeks ago I was flattered to be asked to participate in a podcast interview with Sommelier Jamie Drummond of the Jamie Kennedy Wine Bar in conjunction with our upcoming limited release.  I have to say that I was pretty nervous going in, but Jamie's easygoing style and the comfortable restaurant atmosphere really put me at ease, to the point where I didn't even realize we were being recorded.  It was truly a pleasure to discuss such a broad array of topics with someone as knowledgeable and genuinely interested as Jamie.  You can hear the podcast interview at:   http://www.jamiekennedy.ca/v1/welcome.html

2004  FIVE ROWS  CABERNET SAUVIGNON:
A wet summer gave way to a beautiful fall and great ripening conditions for the late varietals.  This Cabernet Sauvignon was harvested on November 4, 2004.   The Lowrey Cab Sauv is grown in two blocks which differ in vine age, clone, and soil profile.  The older block is a mix of clones 337, 339 and 15, while the younger block is planted solely with clone 169.  All vines are grafted onto low vigour rootstock 3309.  Approximately 10 tonnes of fruit were picked that day, at an average of 21.5 degrees brix.  Characteristically the older fruit gives the resulting wines structure and balance while the clone 169 block provides the ripe fruit notes.
The resulting fruit was processed in small batches with three daily punchdowns for maximum colour extraction.  The wine was left on the skins to macerate following fermentation to help with tannin structure. The cooperage was primarily French (75%) and mainly older barrels (only 20% new oak).  Overall time spent in barrel was 30 months.  The wine for my blend was selected following an intensive barrel selection process where I actually pulled different volumes from a variety of barrels to compose my final 2 barrel blend.  The majority of the blend (300L) came from two 2002 Gillet barrels that showcased good overall components of oak integration, aromatics and palate structure.  The other 150L came from a new 2004 Taransaud barrel that featured amazing ripeness and notes of candied cherry and raspberry.   This wine was bottled in the summer of 2007 and allowed to age gracefully in bottle for a year and a half before this release.
Cases: 45 Filtered & 2 Unfiltered
TA: 6.60g/L
pH: 3.67
Alcohol: 13.2%